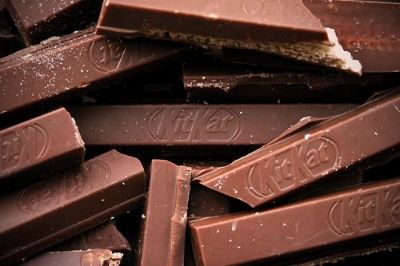 Last night my husband and I were watching one of our favorite weekend shows. We normally DVR them so that we don't have to watch the commercials, but being that it's summer and nothing else is on we were watching the show LIVE! (Dangerous)
Out of nowhere this cute little Kit Kat commercial comes on talking about their newest product, "Kit Kat Bites". I have no idea what happened, but the thought of the crisp crunch mingled with melt-in-your-mouth chocolate had me in a frenzy.
I am on week nine of my weight loss journey and I've now lost 23 1/2 pounds. (Thank you, Jesus) I am feeling strong and maybe forgetting my motto that it's not by
my
might or power, but by
HIS spirit
that I find favor.
You know that verse from Song Of Solomon that says, "Quick! Catch all the little foxes before they ruin your vineyard"? Well, I lived it last night. I had foxes in my head and they were trying to cause me to ruin my vineyard of obedience.
Praise the Lord for HIS faithfulness! I'm so glad I (through the power of the holy spirit) was able to "catch those foxes" (aka: understand the spiritual battle that was going on)
This morning I woke to feeling stronger and ready to begin a brand new day. As I cozied up on my couch, warm cup of milk-laden coffee in one hand and mini-Ipad bible in the other, the Lord spoke intimately and personally to my heart. He reminded me of TRUTH!
I will fight for you, Mary!
I will keep you strong!
You will be FREE!