Archived Post From 1/2008:
Passing the Torch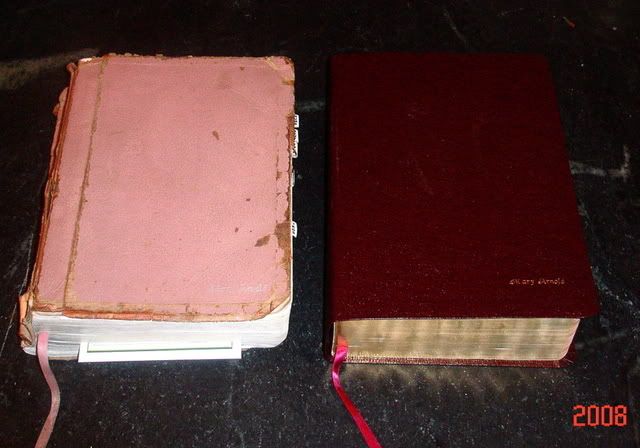 The time has come to retire my old bible and purchase a new one. For me, this is a very personal and emotional event.
You see when I look at my old bible…..,
I remember ALL the things that happened in my life during the 15 years of service this precious book offered. The good and the bad. I remember buying it. I went to a local christian bookstore around here called Berean and spent a long time with the sales clerk. When I opened the "Life Application" NIV bible I knew it was mine. I couldn't wait to bring it home and dig in!
This beautiful bible, my old friend has driven me through

heartache

and

JOY!
* Miscarriages

* Disagreements with my husband

* My best friend banging on my door in the middle of the night as she found out the devasting news that her husband whom she adored, who had led our bible study group had cheated on her. It rocked my world in a way I cannot even describe, yet that ol' pink bible helped pull me together and filled me up with HIS comfort, HIS truth so that I could be what she needed.

*

Birth

s- I remember being in the hospital on bedrest with Seth. What LOOOONG days those were! I found an actual entry from my quiet time while at Morton Plant….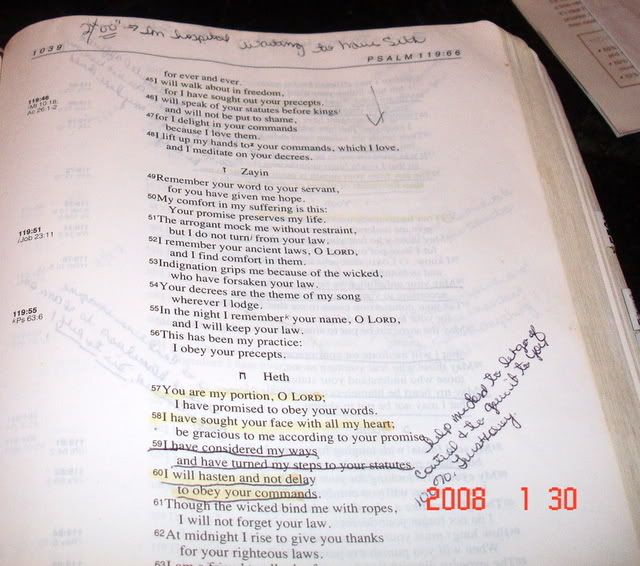 I remember some INCREDIBLE experiences….,
1-
Finding Forgiveness
for a Father who abandoned me to marry someone else and have another daughter whom he stayed around for and raised.
2-
Nursing School.
One of the most rewarding yet TOUGHEST seasons of my life! I remember having NO money during this time. Macaroni and Cheese was the meat and potatoes of our life during that short season.
I remember going to school all day while my husband watched my baby, Brandon during the day and literally walking in the house to change positions while he went to work all night.
I remember cramming for tests and quizzes.
I remember watching death for the first time in my life.
I remember turning down a patient who was aborting her baby at 19.5 weeks and being looked down upon, and YET the absolute peace I felt standing up for life. (I wonder if she ever wonders about that baby?)
3- I remember the JOY of my
husbands salvation
taking place after years of praying for him.
4- I remember the birth of my 3 younger boys. (I didn't own my bible when Brandon was born)

15 years of my life being preserved to pass down to one of my children. I hope to take all of my bibles which have my favortie verses underlined and highlighted, personal notes to them, to my husband, to myself and to leave them my grandchildren!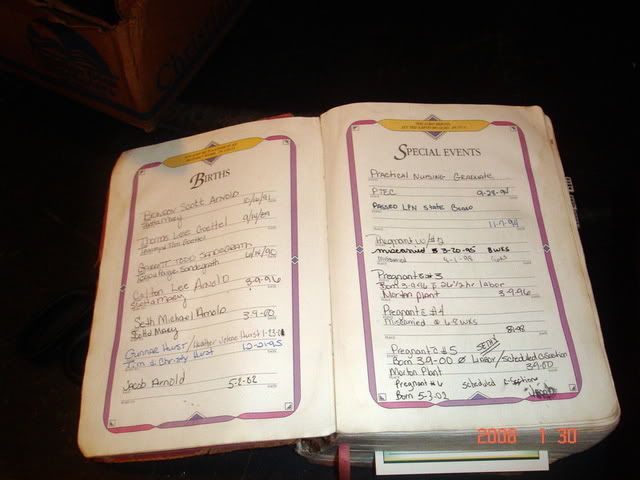 A visual picture of a season past!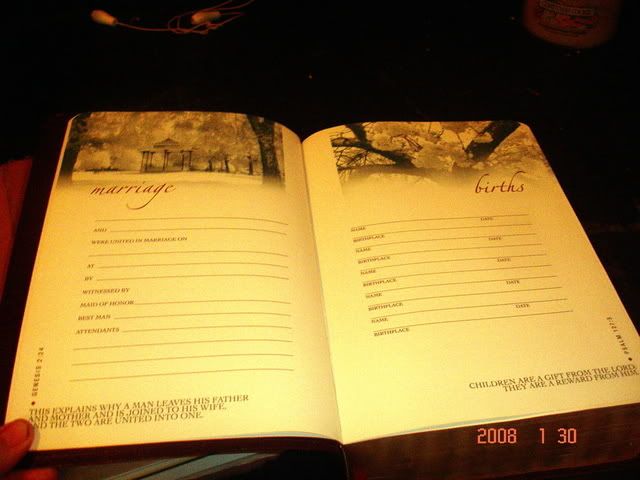 An empty slate ready to be filled with the events of the NEXT 15 years of my life!
My NEW Traveling companion!
UPDATE 2012: This bible never captured my heart like the first one. Instead, the Lord brought in digital bibles that I adore. I love that I can pick up my Ipad or Iphone and read wherever I'm at without having to search out a light to turn on. My digital bible allows me to highlight and take notes, and I use a journal to write down verses that capture my heart! His Word means more to me today than I could have ever imagined. I pray it continues to always get better and better. His Word is my portion forever!