It was that time again! Every June a small group of friends and I go away to our (another beautiful friend, Renee) friends riverhouse. We use this time to pray, to plan and to fellowship. It's a place of old friends, where you can let your hair down. (or dye it, LOL) There are so many things to share. I'll start by telling you the bad news…, I became very sick Saturday night and my husband had to drive 1 1/2 hours to pick me up. For whatever reason I started having heart palpitations and high blood pressure? (I go to the doctor tomorrow) But it was still a wonderful weekend filled with tears, laughter and prayer!
For those of you familiar with my "Betty/Olive" talk, take a guess where "I" sat? (the only Betty) Notice how nice and neat my Olive Organized friends are.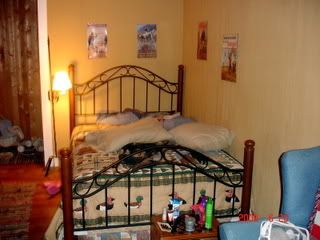 My bedroom! (the one I claim every year)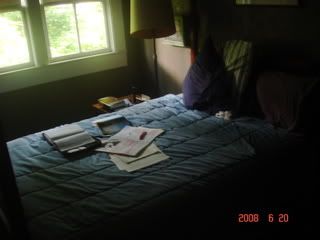 Brenda's Room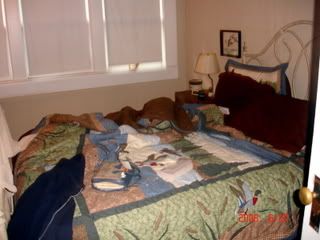 Kim's MESSY room! (this one cracks me up. Kim is my friend who does the Betty/Olive talk with me and represents the "Olive Organized" personality! HA, just goes to show we are not one or the other 100% of the time!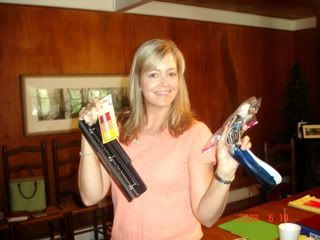 This is my sweet Elizabeth. I LOVE her to pieces. She is so beautiful on the inside and out. I am inspired by her ability to make her house, such a lovely, lovely home. She adds ambiance to every meal with beautiful tableware, candlelite and conversation.

One of my goals this year is bring some of this into my home. This is an area I struggle with. My husband worked evenings for most of the years I homeschooled. I was busy with babies and toddlers and as the only adult at home in the evening to do bath and bedtime, so ambiance and tradition were never at the top of my priority list. (It was more like a cattle call…, come and get it!)

However, as I sat and talked with Elizabeth and asked lots of questions I felt the Lord begin to build this vision in my heart. I have to personalize it to fit "us", but I'm so excited about this goal. Scott has been on "DAYS" for three years and my "baby" is now 6 so no more excuses!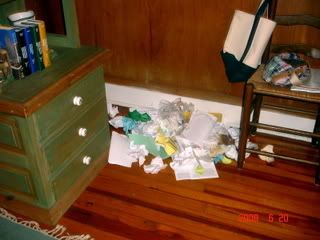 Now after that beautiful post about "sweet" Elizabeth and how she sets the tone in her home with "ambiance", this is the one tradition we pick on her about. She has a pile right behind where she sits where she throws all of her paper trash. We all have joined in and it has become a big joke. But we always call it, "Elizabeth's Pile". When Scott picked me up Saturday night he said it looked like a hamster lived there, LOL! (you know how they nest) One day when we are all done homeschooling I will miss this!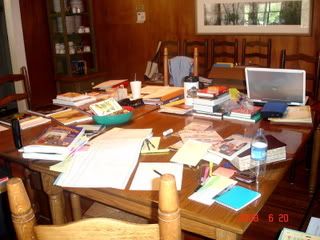 As the weekend progressed we got messier and messier!
Jacob's Curriculum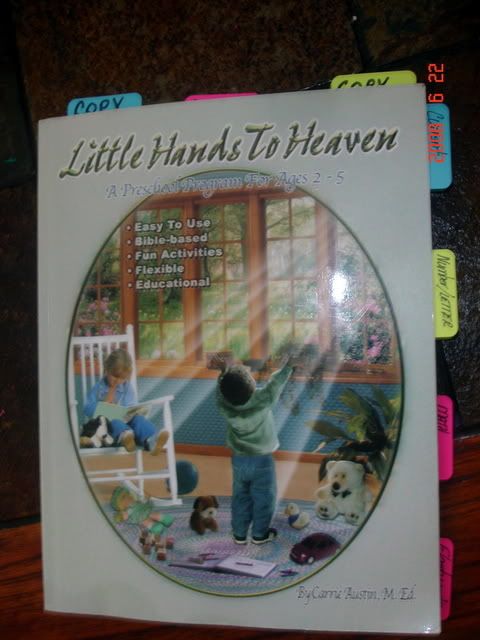 Jacob is using a program called, "Little Hands To Heaven" for Kindergarten this year. (I love those re-stickable tabs to help me get around.)
Seth and Colton – Beyond Little Hands For His Glory!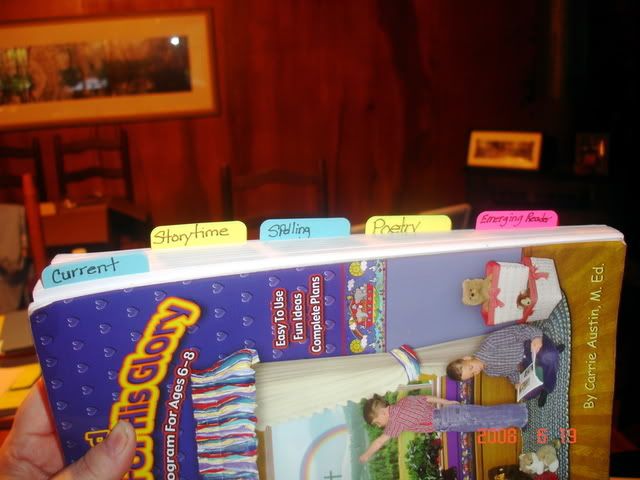 Both use Time4Learning for their math and language arts.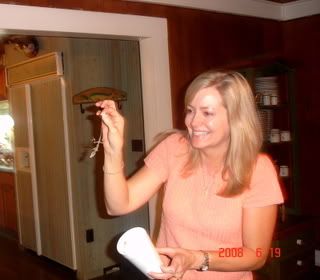 Elizabeth trying to scare Kim w/ a dead lizard! (I felt right at home as the mother of all boys)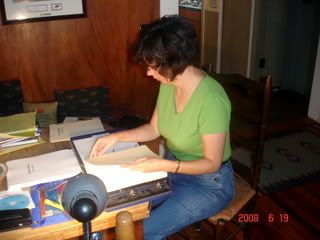 Kim working on her Sonlight!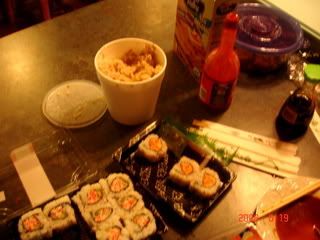 Dinner Thursday Night! (Sushi, Ted Peters smoked fish spread)
Mary's "2008" School Schedule!

I
am very excited about the new schedule. It allows most of school to be done by lunch time. They will have to work on independent things in the afternoon, but the bulk is done by lunch and we can do chores, errands, reading aloud, you name it!
2012 Update: Oh how I loved this particular school year. I miss my "little" boys. Brandon is now working on his math at SPC. Colton is doing Challenge "A" at Classical Conversations, and Seth & Jacob are doing Foundations/Essentials at Classical Conversations.