I am bringing over archived posts from my old blog that I don't want to ever forget. My old blog will eventually be deleted and I do not want to miss out on our family memories! I will try to include the dates for accuracy sake.
Original Post- Seth And His Seizures - 1/17/2009
Friday night we were admitted to the fourth floor of All Children's hospital. At first Seth thought he was at Disney. This is the greatest children's hospital ever.
Every single bed had it's own video game machine, cable television, and even room service. Whenever your child is hungry he just grabs his menu, dials room service and within 45 mins he eats! (24 hrs a day)
Blueberry Waffles, Whipped Cream and blueberries

Our nurse Courtney was wonderful and made us feel right at home. My poor Scotty had been up since 3 a.m. because of work, so he went home to be with the other boys and I stayed the night.

At first all was well, but as the night went on Sethy started to get homesick. He began to ask about Jacob, Brandon, Colton and even Maggie our dog. I decided to play yahtzee with him thinking it would take his mind off of home and at first it seemed to be working.


However, all of a sudden in the Middle of yahtzee he stopped and began crying hysterically for me to get the nurse telling me that he was going to have another seizure. He said his mouth and face were numb.


Courtney came in right away and prepared me saying that he probably was going to have a seizure. She explained that the more a child has seizures the more they recognize the symptoms.


Seth was screaming, "Mama, Mama, Please…, PLEASE don't let me have a seizure! Please give me something, make it stop". (Even now I sob to type those words)


I have never felt more helpless in my entire life. This went on for two hours. I remember crying out to the Lord begging Him to please make it go away. I had to pretend to be calm and kept telling Seth over and over that we were going to get through this. It would be over before he knew it. I crawled up in bed with him and he wrapped his tiny little arms around me. In between the hysterics he kept telling me how much he loved me and kept asking about Jacob, Brandon and Colton. Finally at 2 a.m, exhausted, he fell into a deep sleep and I was able to untangle myself and go sit in the corner and cry.


I began to cry out to the Lord! Why? Why was this happening? I looked out the window and could see all of downtown St.Pete asleep and at rest and here at 2am it was just me and the Lord. He spoke to me through

"Mary, humble yourself under the mighty power of God, and at the right time HE will lift you up in honor." 1 Peter 5:6-9:

I began to feel the anger seep away and I started to worship the Lord in my tiny little recliner chair.
"Give Him ALL your worries and cares because He cares DEEPLY about you. Stay Alert! Watch out for your Great enemy, the devil prowls around like a roaring lion, lookin for someone to devour. Stand FIRM against Him and be STRONG in your faith."


I began to pray for strength and for my faith to remain strong. I think I even broke out into a smile as I realized that the Lord had begun to prepare me for this exact moment in my life through a bible study called, "The Freedom Workshop. I have been through it at least 4 times in the last five years? It has taught me how to walk firmly in my relationship with the Lord. There was a time I would have needed a stronger believer to get me to God, but on this night, Jesus was more than ENOUGH.

"Remember that your christian brothers and sisters all over the world are going through the same kind of suffering you are." 1 Peter 5:6-9


I began to think about my friends Lisa and Jane and others who have children that have gone through this and much worse. I was encouraged by their strength, and empowered as I prayed for them, and their precious children.

I realized that this was a continuation of the Lord teaching me how to walk boldly in
Romans 12:2, "Mary, Do not conform to the behaviors and customs of this world, but let God transform you by changing the way you think."


The only way to have true transformation is through the uncomfortableness that accompanies pain. A beautiful Vase is only a hunk of glass until it's put in the fire and allowed to get very hot. Then, and only then, can the master craftsman take the ordinary hunk of glass and make something extraordinarily beautiful.


I realized that both Seth and I were hunks of glass that night and that the Lord allowed it to get Hot because He wants to make us into HIS beautiful creations that give Him all the glory!


I understand that death comes to all of us and that the purpose of this life for believers is to prepare us for heaven where we will live forever.
Wordly thinking makes me want to protect Seth, Kingdom thinking teaches me to surrender him.
"Do not love this world nor the things it offers you, for when you love the world, you do not have the love of the Father in you.

16

For the world offers only a craving for physical pleasure, a craving for everything we see, and pride in our achievements and possessions. These are not from the Father, but are from this world.

17

And this world is fading away, along with everything that people crave. But anyone who does what pleases God will live forever."
I will close with pictures of our stay. I look at those bandages on seth and realize they represent the beginning of Seth's journey with the Lord. When he was afraid he had me lay hands on him and pray out loud. I sang songs over him and talked of the Lord. In that moment he realized his Mama couldn't save him, but His Jesus could!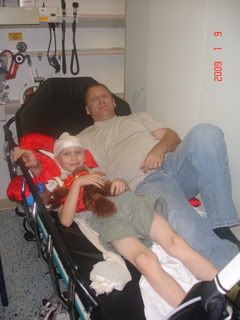 Sethy and daddy in the E.R.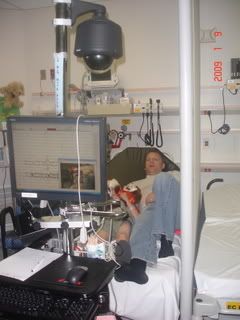 This machine monitored his brain waves and video taped him.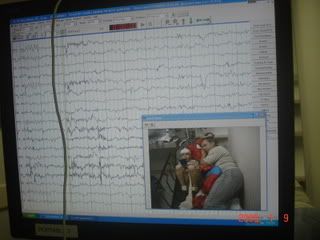 Daddy and Seth on camera
Daddy and Seth in our room finally. (Thank you Korey)
S

ethy and Mama (you can tell it's been a long day, no earrings or lipstick, LOL)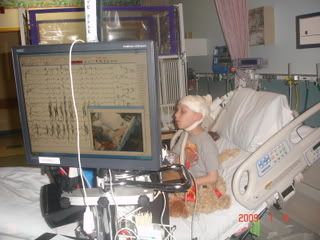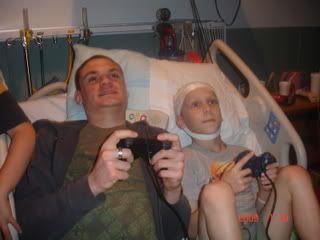 Visiting hours. His brothers were very overprotective of him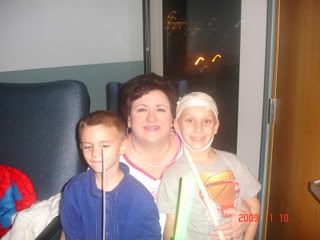 Lord, thank you for being so real in the midst of something so surreal. Thank you for transforming and changing the way I think.